Lively Lessons for Classroom Sessions was my first published work. It has 19 lessons with stories, activities, songs and raps. If you use this book, you will not need any other material. It's all here. The book tells you what to say, how to start, teach and finish a lesson. This book is being used as classroom guidance curriculum across the country.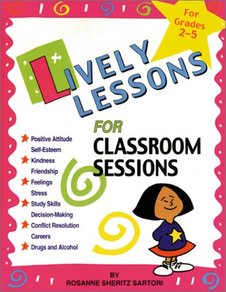 Even More Lively Lessons for Classroom Sessions was next. Here are 20 more lessons that include more stories, activities, songs, and raps. The lessons include character education, lessons on topics such as responsibility, kindness, cooperation, tolerance and manners. More Lively Lessons combined with Lively Lessons will give you a full year of guidance lessons. If you buy both books as a package deal from MarCo, you can save money!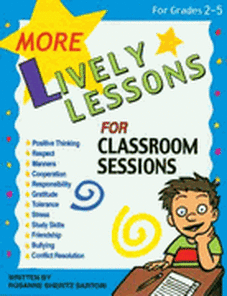 After a long wait and a demand for more stories and activities, Even More Lively Lessons was published in the summer of 2013. There are 20 NEW stories on timely topics such as handling stress, empathy, problem-solving, the need to set safe boundaries and much more. Freshen your guidance program with 20 new lessons! Nothing else is needed - in this book, a CD is included that will let you make color copies right from your own computer!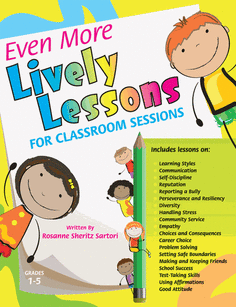 Stand Up Against Bullies is a whole curriculum for elementary students. There are two books for different grade levels. Stand Up Against Bullies for Grades K-2 describes the bully problem at "Bug School" It includes stories, songs and activities that are appropriate for younger students and gives children the opportunity to practice appropriate methods for handling bullies at their school.

You can purchase puppets from MarCo which go along with the lessons in this book or use the paper puppets, which are found in the book. This book is a great tool to help young children learn how to deal with bullies!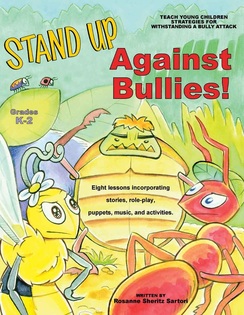 Stand Up Against Bullies for Grades 3-5 contains 9 lessons that include stories, activities and raps. It addresses the bully problem from the perspective of the victim, the bully and the bystander. The whole curriculum, K-5, is presented in a lively way, that will relate to your students and encourage additional discussion and offer insights to the bullying problem.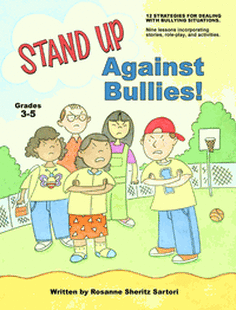 Colorful Counseling is a very exciting tool for counselors to use with individuals, small groups or even classroom guidance. The book has reproducible worksheets that can be used by themselves or put together into booklets to encourage students to express their thoughts and feeling through drawing.

The topics cover a wide range - family, loss, school, safety, worries/fears are just a few of the booklets that can be completed by students. Each booklet has an introductory "rap" and a summary with a positive life lesson.

A CD is sold with the book so that a counselor has the option to reproduce the worksheets in color. This popular book was written with my friend and colleague, Rachel Herrman.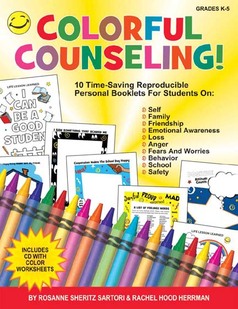 A School of Champions! contains lessons that teach study skills to students of Grades K-2. Using this book, you can help children get a good start to their educational career. The skills, which include the importance of having a good attitude, how to listen, and the importance of being organized are taught through story-telling, songs, games and other activities.

Purchasing the puppet puppy who is the star of the stories is optional, but certainly enhances the stories of becoming a champion student!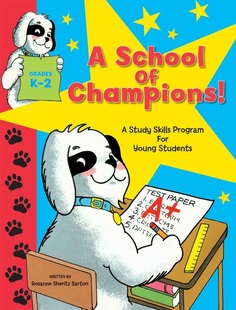 Counseling on the Wall! is perfect for any educator, who has the responsibility of putting up a bulletin board! This task is often expensive and time-consuming, but Counseling on the Wall will come to your rescue! This book contains over 50 bulletin board ideas and it comes with a CD with the shapes, visuals and borders ready to print from your computer. No teacher store items are needed!! All you need is this book and you will have motivational bulletin boards ready for the hall.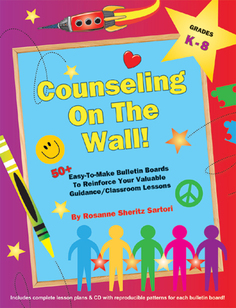 I also wrote a book of stories and activities published by National Center for Youth Issues called Tales of Temper. This book has stories, activities and raps and information that will help people of any age (including adults) learn to deal with anger management. This book has been used by school counselors, and professional counselors across the U.S. and other English-speaking countries.

If you click on this cover, you will be linked to the NCYI catalog.